This is a sponsored post on behalf of Smile Health Dental Plans. I received information to facilitate today's post as well as a promotional item to thank me for my participation.
I'm smiling while I type this because it's Friday! Not just any Friday, it's the Friday that kicks off the long Memorial Day weekend; helps me celebrate another amazing year on this planet and kicks off summer around here! There are so many good reasons to smile today! Another reason I'm smiling is I've partnered with Smile Health Dental Plans to share their eight tips to save your smile and your life. Plus, because it's Friday and I want you to smile too, I'm hosting a giveaway for a

Your Smile Health = Your Body Health Care Kit

below.
Let's see those Smiles:
We are a family of big smiles and big laughs. That's just part of the Kinsman family dynamic and I love that about us. While our teeth might not be photo shoot pristine white, or perfectly straight, they are healthy and to me, a healthy smile is far more important than a perfect set of pearly whites.
Everyone knows it's important to go to the dentist to have healthy teeth, gums and a winning smile, but did you know that the health of your mouth, affects every part of your body?

It's true. It's not only what we put in our mouth that matters but how we take care of it that leads to a healthy heart, mind and body.
Know the Benefits good oral hygiene:
Good oral health can limit your exposure to heart disease, stroke and memory loss. It's so important to start taking care of your oral health early, so f
rom birth on, I've instilled a healthy smile routine for my daughters, that is just second nature to them not that they are young ladies and far removed from needing to be reminded to brush and floss before bed time. One thing that never changes is the need to see a dentist regularly. Unfortunately, with the rising cost of health and dental insurance, seeing the dentist as often as we should can be cost-prohibitive.
That's why was happy to learn about Smile Dental Health plans and share them with you today.

The people at

Smile Health Dental Plans know this and they have come up with one of the most simple and affordable Dental plans on the market today!
About Smile Dental Health and their dental plans:
Smile Health Dental Plans are an affordable alternative to traditional dental insurance. Members pay an annual fee to receive discounts all year long. And with Smile Health Dental Plans there are no hidden costs, just savings of 20% or more on many preventative, restorative and cosmetic dental treatments. You get immediate benefits, no health restrictions, no waiting periods, no claims, no maximums, and more. I invite you to learn more on their website.
If you are still in that stage of parenting where you are reminding your child about good oral hygiene habits, these eight tips are for you.
Eight Tips to Save your Smile and your Life:
These are all fantastic tips and I like how Smile Health added helpful facts with each one. Please feel free to download this handy list and share it with your family. Maybe even tape it to your kid's bathroom mirror or door as a subtle reminder to stop and take care of their smile!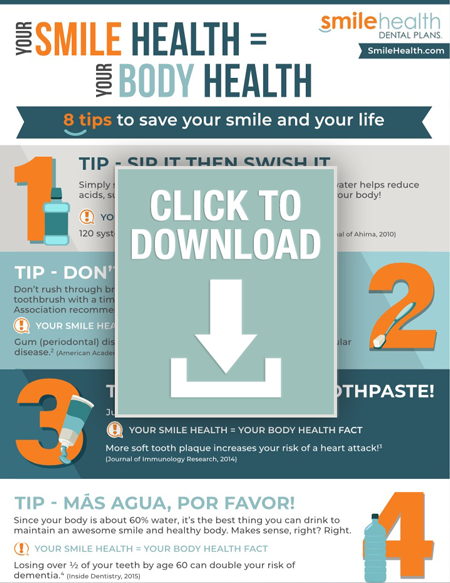 Two Tips from a Mom of Teens with healthy smiles:
Kids say they will brush and floss when they go on sleepovers, but more often than not, they are super tired and either will do the very minimum needed to say they cleaned their teeth and gums, or they will just forget and go to sleep. My tip is make sure your child has a water bottle with them and get them in the habit of drinking water with each meal and discreetly swish water to help clean their teeth, gums and mouth of food and drink.
Kids love sweets, especially candy, so instead of eliminating all candy from their diets, allow them a special treat of dark chocolate since it melts and can be rinsed off teeth fairly easily. Steer clear of "sticky" candies like gum, caramels and candy bars when possible.
Win It:
Thanks to today's sponsor, Smile Health Dental Plans, one lucky reader will receive a
Your Smile Health = Your Body Health Care Kit which includes:
1 - Oral B Vitality Electric Toothbrush

1 - Crest Pro-Health Toothpaste Travel Size

1 - Oral B Glide Floss

1 - Crest Pro-Health Multi-Protection Oral Rinse

1 - Smile Health = Body Health PDF pamphlet
I really like how clean my mouth feels after using all of these products. Since the Vitality toothbrush floss action, my gums were a little sensitive on the first use, but quickly got used to it.
Terms:
No purchase is necessary to enter using the Rafflecopter form below. Must live in the United States and be 18+ or older to enter. Must use a valid email address to enter. Sorry, we can't ship to P.O. Boxes. One winner per household only. My WAHM Plan is not responsible for prize fulfillment, the sponsor is. Winners will be notified by email used on the entry form and have 48 hours to respond or another winner will be chosen. This giveaway is not associated with nor endorsed by Facebook, Twitter, or any other social channel. Each household is only eligible to win one
Your Smile Health = Your Body Health Care Kit.
Only one entrant per mailing address per giveaway.
As always, I hope you've found these tips helpful and will share it across social media so that your friends and family will know of this resource and will be able to enter the giveaway too. Thank you!
From our family to yours, we wish you a happy, safe and fun Memorial Day weekend!
Please share in comments: Which tip did you find most helpful?